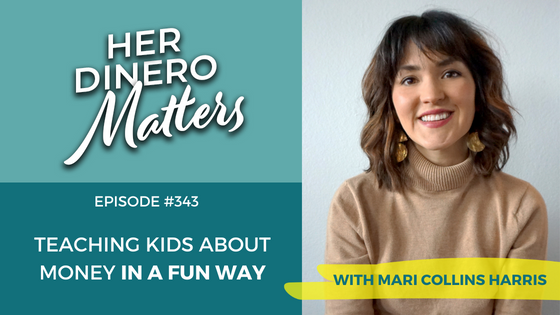 I recently had the pleasure of speaking with Jen Hemphill on Episode 343 of Her Dinero Matters podcast to talk teaching kids financial education in an engaging way. Financial education is often neglected in schools and homes, which can lead to poor money management skills and financial struggles later in life. However, by teaching kids about money in everyday situations, we can set them up for financial success and independence in the future.
To make financial education effective, it is crucial to start with age-appropriate concepts. Younger children may not understand complex financial concepts, so it's important to start with the basics and build from there. Here are a few quick takeaways from the Her Dinero Matters podcast conversation:
Your dinero matters: children learn through example
A key aspect of teaching kids about money is setting a good example. Parents can demonstrate good financial habits such as budgeting, saving, and avoiding debt to their children. You can also involve your children in these activities, such as having them help you make a budget or encouraging them to save money for a specific goal. On Her Dinero Matters, I dove into my own financial upbringing and how learned to manage my own money as a child.
What they want matters: Meet kids where they are
To make financial education enjoyable, it's important to meet children where they are. If your child loves Pokemon, you can help your child save up to buy a special card. If you've got a voracious reader, then add books they love to their Ketshop account. You can engage kids in real money management or create a reward system for smart financial behavior. By making financial education fun and interactive, kids are more likely to retain the information and develop good financial habits.
Don't be afraid to talk dinero with kids
Finally, it's important to keep the conversation going. As your child gets older, they will encounter more complex financial situations, such as student loans and credit card debt. By continuing to have open and honest conversations about money, you can help prepare them for the future and set them up for financial success. Her Dinero Matters podcast usually focuses on how adults management their money, but it's important to empower the next generation throughout their childhood.
In summary, teaching kids how to manage money in a real-world situation is crucial for their future financial success. By starting early, using age-appropriate strategies, and setting a good example, you can help your child develop good financial habits that will last a lifetime. You can learn more by listening to the interview on Her Dinero Matters podcast.